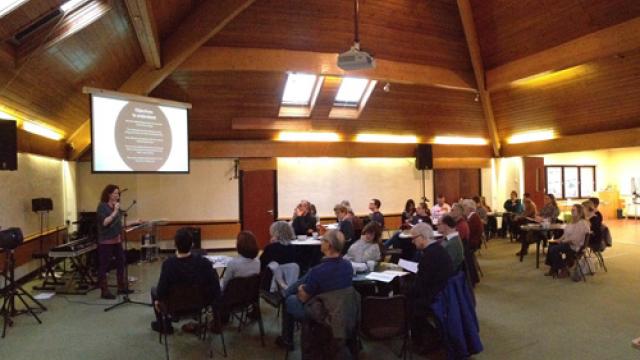 Wed 12th July 2017
We're just back from the latest stop on the Discipleship Challenge Tour, which has criss-crossed the country from Belfast to Birmingham, Shrewsbury to Salisbury, Reading to Rugby, unpacking the cultural challenges facing the 18-30s generation, and turning them into opportunities for genuine, fruitful discipleship.
"Really fabulous - explains so much about me and my generation! Really looking forward to using disciple."
"Good event, great energy from the presenters and very open and authentic."
After the original pilots in London and Bangor Co. Down, the feedback was clear that we needed to extend it to a full day interactive workshop. It means there's now time for discussion, debate and questions. Nine separate events have seen us equip over 200 leaders since the beginning of the tour, and feedback is hugely encouraging.
Jess, FICM UK's Director of Youth and Young Adults, has spearheaded the tour. She says, "We arrive at every event to find a hunger to reach and disciple the 18-30s but a frustration and sense of hopelessness about how to turn this around. It's an absolute privilege to travel with each group as God smashes this - giving them the wisdom, tools and the encouragement they need to go and make disciples of this amazing generation whatever challenges they face in the unique context they minister in!"
Rob, FICM's UK Director says, "There is clearly a need to tackle the challenges facing this "missing generation" head-on, and expose them for what they really are - opportunities to disciple with a radical faith and boldness which will see the nation alight for Jesus. We're ready to come and equip hundreds more leaders wherever you are in the UK, just name the time and place!"
We are now organising events for the tour for early 2018 - please contact the office if you would like to host us, or click here to find out more about hosting.
Freedom In Christ's "Discipleship Challenge Workshop - Unpacking 21st Century Discipleship with 18-30s" was launched in October 2016 with the express aim of helping the church effectively disciple what has become known as "the missing generation". Key components of the day are:
The essential need for authentic faith as disciples of Jesus, learning to become more like Him in character
7 aspects of the millennial worldview which throw up cultural barriers to the gospel - but actually represent golden opportunities for discipleship.
5 elements of the communications revolution that we need to master to connect with this generation.
How FIC's 3-pronged approach to discipleship enables us to cut through the baggage and really see freedom and fruitfulness in this generation.
More information about the day can be found here.