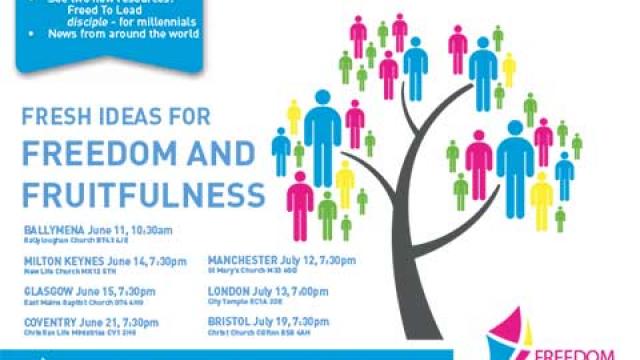 Fri 29th April 2016
Following the significant announcement that Steve Goss is handing over leadership of Freedom In Christ UK to Rob Davies and the launch of two new significant new discipleship resources, we are pleased to announce a series of free events around the UK in June and July. 
Entitled "Fresh Ideas For Freedom And Fruitfulness", each 2-hour event will bring you all the latest news and resource information from Freedom In Christ and send you away inspired to make disciples. You will:
meet Rob Davies who takes over leadership of FICM UK in September
hear from Steve Goss the amazing stories of what is happening around the world through FICM in countries such as Iran, Russia and Ethiopia
hear from Jess Regnart how the church can keep and disciple young adults, the "missing generation", and see the new disciple resource, the message of Freedom In Christ for the millennial generation, which is due to be launched in the next month
take a look at the new Freed To Lead resource written by Rod Woods and Steve Goss to equip Christians who are in any kind of leadership role.
Steve Goss says, "We have such a lot to communicate to friends of the ministry right now and this seems a great way to do it. We've done our best to hold an event in striking distance of just about everyone in the UK and I'm looking forward to meeting as many people as possible."
Dates and venues are listed below.