Setting Your Church Free
A retreat for church and ministry leadership teams to enable them to draw a line under corporate issues from the past and in the present and move on.
Who is this for?
Church leadership teams
Leadership teams of Christian ministries
What's the format?
A facilitated retreat typically covering Friday evening and all day Saturday (though a longer time is helpful)
What does it cover?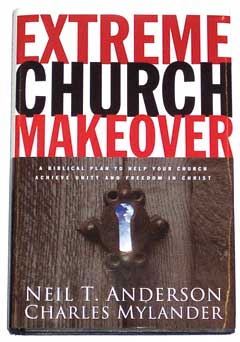 Nothing takes the wind out of a ministry's sails more than dysfunctional leadership, internal strife, unresolved conflict and unresolved sin from the past.
Freedom In Christ regularly facilitates retreats for church leadership teams to resolve these things. The retreats are led by experienced leaders and are based on the process outlined in "Extreme Church Makeover" by Neil Anderson and Charles Mylander. It's helpful if the main leader - and ideally the participants - are familiar with the book.
In practice, this retreat will tend to occur some time after the church has started to use the Freedom In Christ Discipleship Course.
A more detailed look
During the process you will address corporate sins, spiritual attacks and destructive corporate mindsets. You will finish by putting togeher a Prayer Action Plan that will guide you as you then seek to apply what God shows you during the retreat during the following weeks and months.
This is a process of establishing the healthy leadership patterns needed to guide a Spirit-led process of renewal and refocusing. To do this, patterns of personal and corporate sin must be addressed.
You will go through six steps based on Revelation 2 & 3. Although written to the seven churches, the principles apply to any corporate situation, but especially to churches and Christian organisations:
Step 1 - YOUR STRENGTHS - What would Jesus say positively about who you are and what you are doing well?, "I know your deeds..." (Rev. 2:2). What have you done and are doing consistently well?
Step 2 - YOUR WEAKNESSES - What does Jesus have against you? "But I have this against you..." (Rev. 2:4).
Sins of commission and omission
The goal here is to give permission to everyone to state what they sense from the Lord is wrong and express their opinions without fear of retribution or censure.
Step 3 - MEMORIES - Here you want to ask God to remind you of your greatest victories, stories and landmarks in the history of your ministry as well as the traumatic events from your past. This principle is based in the "memorial stones" of Joshua 4 & Psalm 145:1-7.
Some painful memories have real names and they may very well be of someone in the room. We use real names here because we must walk in the light and true forgiveness requires it.
We can't change the facts we remember but we can change their meaning and the power they have over our present way of operating.
All participants are encouraged to pray individually and audibly to forgive, release and bless those who have hurt us.
This step requires a break in the retreat so that if there is someone in the room you need to talk to, you can resolve this issue before we continue with the process.
Step 4 - CORPORATE SINS (Lev.26:40; Ezra 9:5-7; Neh.1: 5-7; 9:33; Psalm 106;
Jer: 16: 10-13; Dan.9: 4-19; Rev.2: 4,20; 3: 1,15 - These are patterns of behaviour that are displeasing to God and contrary to His revealed will and are held in common by the whole group or a significant number of people within the group.
This calls for corporate action on the part of the leaders to discern and to deal with them (Joshua 7-8)
Examples include: gossip, rebellion, dissension, laziness, dysfunctional leadership, organisational pathology, tolerating sin in the camp, immorality, power struggles, critical spirits, pride, abuse of spiritual authority, unforgiveness, weak spiritual oversight, secret meetings, etc.
Group discernment is critical here rather than just listening to everyone's opinions.
Each person will be instructed to pray out loud their own personal involvement in these sins and not someone else's sins.
Step 5 - SPIRITUAL ATTACKS - Satan will attack you, especially the leaders and their families, because of what you are doing right, Rev. 2:9,10,13, 24:3:7.
Christ-centred ministries can expect spiritual opposition and it is up to the spiritual leadership to discern these attacks and do something about them.
You must dedicate your facilities, ministries and all the families and resources that God has brought to you for His honour and glory and realize that Satan is opposing you.
Satan may gain access to your buildings because of:
sins committed in your facilities
foreign objects brought into the facilities
rebellious and sinful people who are allowed to influence the use of your facilities, the direction of your ministry or in contaminating others through false guidance or immorality
what about burnout, discouragement, marriage conflict, even suicides? (Satan opposed Paul from going to Thessalonica)
Step 6 - PRAYER ACTION PLAN - This is the letter you will ask Jesus to write to your organisation patterned after Rev. 2&3. This step synthesizes all that God will show you into definitive statements.
You will renounce the evil (attacks, corporate sins, conflicts and weaknesses), which is your response to Jesus who requires you to "repent (Rev. 2:5)."
You will announce the positive biblical opposite, worded in terms of your resources in Christ who charges us to "remember (Rev. 2:5)."
You will affirm a scriptural promise that encourages and motivates you which is your response to "hold on (Rev. 3:19)."
Finally, you will commit to an action, which is your response to "obey (Rev. 3:20)."
This may all sound somewhat daunting but in reality, although there can be difficult moments, these retreats are fantastic times of moving forwards together that, for many teams, are absolutely fundamental to the growth they have since experienced.
Prerequisites
There are two prerequisites, which, in the interests of making the event a success, are non-negotiable:
Every member of the team must attend - if even one cannot make it, the date should be rescheduled. This is because the team will move on a long way in their thinking during the retreat and if anyone is left out it can prove to be divisive in the long run. Also, every team member has a perspective that needs to be heard by the others.
Everyone who attends needs to have been through the basic Freedom In Christ teaching and had his or her own personal Steps To Freedom appointment. We want to ensure that everyone has been prepared to humble themselves and deal with any personal issues the Holy Spirit shows them. Please note that going through The Steps To Freedom as part of a group does not count as a personal appointment – we are talking about being led through the process by someone else. 1 John 1:7 says, "If we walk in the light as he is in the light, we have fellowship with one another, and the blood of Jesus his Son cleanses us from all sin. If we say we have no sin we deceive ourselves and the truth is not in us." We simply want to be sure that everyone attending has taken the opportunity to do business with God and is in a place where we can have genuine fellowship with each other.
If these are not met, we will not be able to facilitate the event. We are aware that that sounds a little harsh - even legalistic - but we have learned through experience that, for the retreat to work well, these two things are absolutely essential.