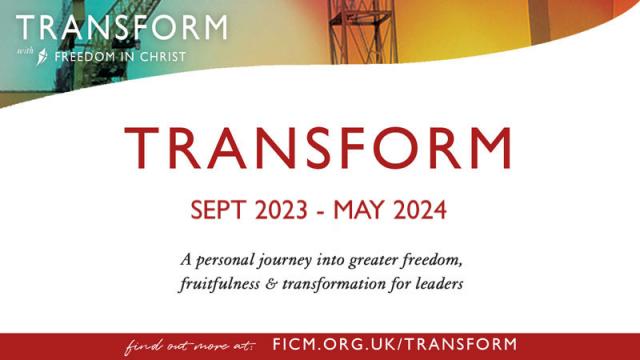 Fri 31st March 2023
TRANSFORM is an unparalleled opportunity for Christian leaders to dive deep into the personal freedom, fruitfulness and transformation Jesus has for them - at a time when the context and circumstances of leadership are incredibly challenging.
It's a committment - praying, studying and meeting together every week for the best part of 10 months, we recommend you set aside 4 hours a week to get the most out of it. But if you're responsible for strategic vision and direction in your church, organisation or ministry, TRANSFORM will, well, as it says on the tin, transform your leadership.
There are three stages to TRANSFORM - Reposition, Retune and Refocus. The first seeks to ground your identity in Jesus and deal with anything that's holding you back personally. The second, Retune, begins to apply your new found freedom more specifically to your leadership adventure, and the contenxt within which you lead, before finally, in Refocus, we unpack what it means to be a truly transformative leader.
As well as the teaching, fellowship and prayer of the weekly online hubs there are two retreats in October and April. The first is normally held online, the second is in-person.
To find out more and apply, head over to ficm.org.uk/transform
Watch our T22 leaders speak about their experience on TRANSFORM...