Wed 21st December 2011
An announcement from Neil Anderson, Founder of Freedom In Christ Ministries:
"I have developed and shared the message of Freedom in Christ Ministries for nearly thirty years. Last year I sensed that our ministry needed an international director, and all our national directors agreed.
Along with them I am happy to announce that our United Kingdom director, Steve Goss, will take the position of International Director of Freedom in Christ Ministries beginning January 1, 2012. Steve has shown the kind of leadership our ministry needs as it is expanding rapidly around the world.
I will remain a member of the International Council, and continue to support the ministry. This coming summer will mark 40 years of ministry, and I will be 70 years old. It is time to pass the baton, and I couldn't have handed it to a better person.
Join me in praying for Steve and Zoë as they accept this exciting challenge."
Steve will remain in charge of Freedom In Christ's UK office but is gradually handing over the day-to-day running to Gareth Burgess, our new Operations Director.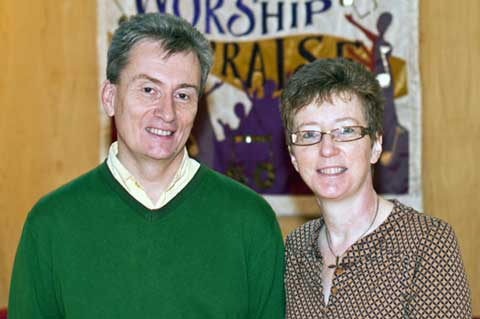 Freedom In Christ now has representatives in around 20 countries from every continent and is growing fast internationally. This year new representatives were appointed in Spain, Portugal and Nepal and several other countries are waiting in the wings.
Steve (pictured above with Zoë at a recent conference) says, "I am excited - and daunted - by this new role. We are seeing a tremendous explosion of interest across the world and see huge potential for changed lives, changed churches and changed nations."
In June 2012, the UK will host Freedom In Christ's biannual International Staff Conference in Bristol. The picture below was taken at the last conference in Toronto, Canada, in 2010.
On Wednesday May 30 2012, Neil will officially commission Steve and Zoë into their new role at a special celebration evening in Reading. There will be a reception beforehand for FIC team members and those who support the ministry financially.
Steve says, "We warmly invite anyone who loves our message to come to this special occasion and join us in celebrating what God has done and is yet to do."
If you would like to attend the event you can see further details and book your place here.