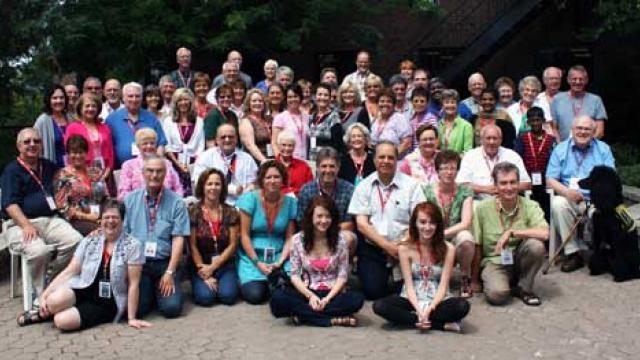 Fri 30th March 2012
Every two years, Freedom In Christ Ministries brings together as many as possible of its staff and volunteers from all around the world. The photograph above was taken at the last gathering near Toronto in Canada in 2010.
This year, the meeting will be held in Bristol, UK, during the first week of June.
Around 120 people are expected to attend from countries including France, Switzerland, Portugal, Spain, Romania, Albania, Iran, India, Nepal, Malaysia, Australia, South Africa, Liberia, Ethiopia, Cote d'Ivoire, USA, Canada, Mexico and Venezuela.
It's a particularly significant meeting because it will mark the handing on of the baton from Neil Anderson to Steve Goss. Neil says, "I am so looking forward to June, 2012 when all the staff, ministry associates, and representatives of Freedom in Christ Ministries from all over the world will meet together in the United Kingdom. We will celebrate FICM-UK's thirteenth anniversary under the leadership of Steve and Zoë Goss. It will also mark my 40th year of ministry and my 70th birthday a month later. It is time for me to pass the mantle to the next generation and I do so knowing that our best years are ahead of us."
The staff meeting is restricted to FIC team. However, there will also be a celebration meeting on the evening of May 30 in Reading during which Neil Anderson and other FIC country directors will formally confirm Steve Goss as the new Executive Director of Freedom In Christ Ministries International and all of our supporters are warmly invited to attend. More information and booking options here.