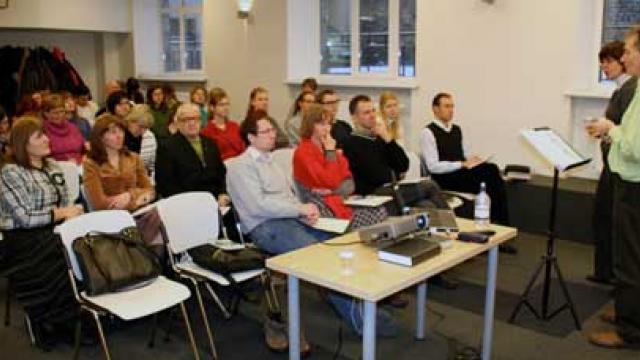 Tue 17th January 2012
Steve Goss writes:
I have just returned from a trip to Latvia organised by Juris Tuns, a Latvian who came across the Freedom In Christ Discipleship Course at a church in Poole in the UK.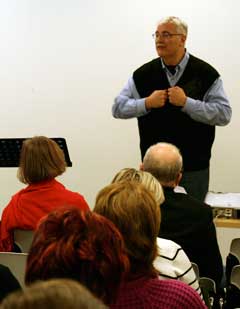 We spent two days with around 50 Latvian leaders teaching the theological principles behind the FIC approach to discipleship and how to use The Steps To Freedom In Christ.
I was delighted to be accompanied on the trip by Clay Bergen, director of FIC Canada and our global prayer co-ordinator. Clay is pictured leading the group through The Steps To Freedom In Christ at the end of the conference.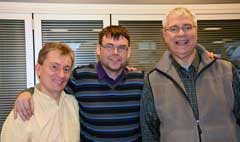 The FIC material had an excellent reception with a great deal of enthusiasm expressed to form a team that will bring it to Latvia.
We were delighted to meet some key leaders.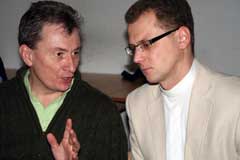 Pictured with me and Clay is Edgars Mazis, a Baptist leader.
Perhaps the highlight was an invitation from Rinalds Grants (chatting with me in the picture), a Lutheran pastor who is also the Latvian representative for Alpha, to attend an Alpha celebration at his church. Over 50 people had made first-time commitments on their latest Alpha course and it was fantastic to see some of them tell their stories at a lovely celebration with great food and musical entertainment.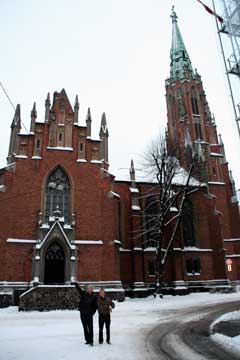 Rinalds leads a church with the charming name of "Old Gertrude" Lutheran church. Clay and I are pictured outside the church which, being centrally located in Riga, the capital of Latvia, has something of the air of a cathedral.
We left the church with a FIC Discipleship Course Leader's Guide (in English) and they are keen to see how it works as a follow-up to Alpha.
I was pleasantly surprised at the Alpha celebration on Saturday evening to be asked if I was available to speak at the church the following day before we went home. A shirt and tie was hastily purloined from Juris.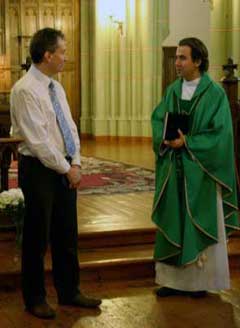 I really appreciated the reverence of the service which featured sung liturgy, a wonderful choir and holy communion.
The service was led by Rinalds' colleague Krists Kalnins with around 200 in the congregation. It was a real pleasure to be part of it.
Riga is a beautiful city. I felt that we made many new friends and I'm sure I'll be returning at some point.
Please pray that Juris and the team that formed after the conference will have wisdom on how to take this all further.
For future reference, the text of the invitation to the conferences is set out below:
Latvian invitation
Aicinām Jūs piedalīties starpkonfesionālā konferencē "No pasīva vērotāja līdz Kristus māceklim un sekotājam."
Vai esat ievērojis, ka lielākā daļa mūsdienu kristiešu tā arī neizaug par Kristus mācekļiem? Vai vēlaties palīdzēt viņiem ceļā uz jaunu sākumu?
Nila Andersona (ASV) un Stīva Goša (Lielbritānija) kurss "Brīvība Kristū" http://www.ficm.org.uk/ radīts tieši šiem mērķiem. Šobrīd tas ir tulkots 12 pasaules valodās, bet Lielbritānijā vien to ir noklausījušies vairāk nekā 150 tūkstoši cilvēku. Kurss domāts kristīgo baznīcu līderiem, tiem, kas ir kristīti, iesvētīti un glābti, tiem, kuri zina Bībeles un kristietības pamatus. Daudzas baznīcas tos rīko pēc iepazīšanās kursa "Alfa".
13. un 14. janvārī no plkst.9:30 līdz 17:00, Latvijas Baptistu Draudžu Savienības ēkā, Rīgā, Lāčplēša ielā 37 tiek rīkota divu dienu konference, kurā viesosies viens no šī kursa autoriem Stīvs Gošs, viņu pavadīs Klejs Bergens (Kanādas kalpošanas nodaļas "Brīvība Kristū" direktors.
Klausītāju ziedojums – 20 lati, tiks izmantots, lai segtu konferences pamata izmaksas, kurās iekļauti arī nelieli izdales materiāli, kā arī tulkošana no angļu valodas uz latviešu valodu. Atlikušie līdzekļi palīdzēs uzsākt šī kursa tulkošanu latviešu un krievu valodās. Ja dalības maksa ir par lielu, lūdzu nekautrejoties paziņojiet to orgkomitejai un mēs atradisim iespēju Jums piedalīties.
Vietu skaits ierobežots, tāpēc lūdzam apstiprināt savu dalību pa e-pastu: info@educationalplacements.com vai pa telefonu: 29 27 27 01.
Konferences orgkomiteja
Russian invitation
Уважаемый друг!
Приглашаем Вас принять участие в межконфессиональной конференции: «Из пассивного созерцателя – в ученики и последователи Христа».
Заметили ли Вы, что большинство христиан современности так и не перерастают в учеников Христа? Хотите ли Вы достичь и поднять людей на жатву по ниве Христа?
Курс «Свобода во Христе» Нила Андерсона (США) и Стива Гоша (Великобритания) http://www.ficm.org.uk/ создан и опробован именно для этих целей. Пока, он переведен на 12 языков мира и прослушали его, например только в Великобритании, более 150 000 человек. Курс расчитан на тех, кто уже крещен, помазан, знает азы Библии и христианства. Многие церкви организуют его после ознакомительного курса «Альфа».
13 и 14 января c 9:30 до 17:00  в Риге, в помещениях Союза Баптистских Церквей Латвии, по улице Лачплеша 37, Стив Гош и Клэй Берген (Директор Канадского отделения служения «Свобода во Христе») будет знакомить с курсом лидеров христианских церквей.
Взнос участника 20,- лат будет использован на покрытие непосредственных расходов по конференции и перевода с Английского языка на Латышский. Оставшиеся средства, после конференции, послужат началом к переводу материалов курса на Латышский и Русский языки. Если взнос за участие в конференции  принесет урон вашему бюджету, то не стесняйтесь попросить у оргкомитета финансовой поддержки. Мы ищем спонсоров конференции и хотим дать возможность принять участие всем желающим.
Количество мест ограничено, поэтому просьба подтвердить свое участие по электронной почте:  info@educationalplacements.com или по телефону: 29272701.
Оргкомитет конференции