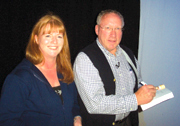 It was a real privilege to be at Spring Harvest at both Skegness and Minehead. Neil Anderson's teaching sessions each afternoon in the Big Top drew between two and three thousand people in total.
At the end of each week, Steve Goss led the group through The Steps To Freedom In Christ. We've received many reports of changed lives and much enthusiasm from church leaders.
Steve Goss says, "It enabled us to meet a whole lot of new churches that we simply wouldn't have come across any other way - we very much enjoyed meeting them!"