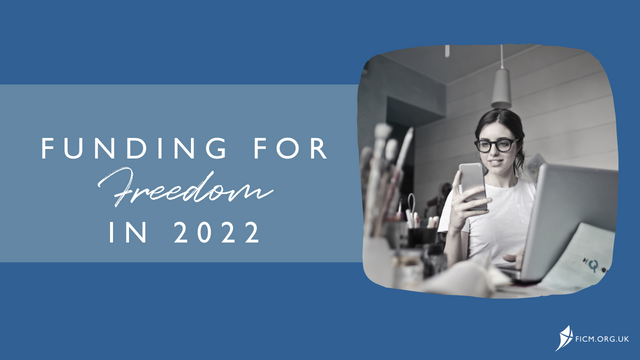 Fri 24th June 2022
We have a huge heart to see EVERY generation embrace Jesus' freedom, but we can't do it without your financial support!
Is God prompting you to play a part in realising the Freedom In Christ vision, and join us in what He is calling us to in 2022?
Our "Funding 5 For Freedom 2022 Appeal" is urgently needed. We need to raise £50k in order to:
Complete a much needed, brand new, state-of-the-art Youth Discipleship Resource which will not only offer UK-focussed great discipleship material for already Christians, but also great resources to help build a bridge to a life of freedom and fruitfulness with Jesus for those youth who just rock up to Youth Club for the Nerf-gun battles!
Continue to employ our brilliant Comms Manager who will proclaim Jesus' freedom far and wide, finding new ways to connect with Jesus' bride across social media channels and really support disciple-making leaders to do the same.
A much improved and updated, user-friendly Website that will help Christian leaders really connect with us, making it far easier to access the Leadership, Discipleship and Training opportunities and resources we offer. This one is pretty exciting (if you're into this kind of thing!) because the new website will offer a "template" for Freedom In Christ National Ministries around the world to quickly get up and running and next to zero cost, so there will be multiplying, world-wide, fruit to enjoy! It's also pretty urgent because our current website reaches end of life later this year!
On top of that, we're building an amazing new online "Discipleship Hub" which will link seamlessly from the website, be mobile-friendly and will completely revolutionise how we help churches, ministries and small groups actually "do" discipleship in the 21st Century.
And lastly, we are completely re-producing ALL of the Training Material we offer to Church and Small group leaders to ensure they get the most out of our resources, and to make it more accessible, targetted particularly to roles within delivering a Freedom In Christ discipleship resource, and so therefore help groups get the most out of our resources.
This fundraising appeal is going to be epic - and may even involve our Executive Director Rob, and anyone else he can convince, jumping out of a plane on a Charity Skydive. The thought of proclaiming Jesus' freedom whilst 10,000 feet in the air above the UK as a prophetic statement appeals to him for some reason...
Please consider partnering with us on this - every gift, no matter how large or small, one-off or regular - can make an eternal difference! Click here to give now