On this page we want to give you as good an idea as we can of exactly what you will get when you buy The Grace Course so that you can work out how best to use it.
DVD presentations
This is a 13 minute excerpt from Session 3 - "Unashamed!" It contains the first ten minutes or so of the teaching part of the session and a testimony from the end of the session.
Leader's Guide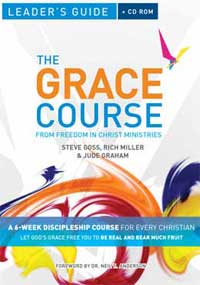 This is your complete guide to leading the course and to each session.
It contains all the notes and information you will need together with black and white representations of the PowerPoint slides (which are on a CD in the back of the book). Use the PowerPoint slides if you decide to present the sessions yourself rather than use the DVD.
You will also see the optional Pause For Thought sections.
Click on the link below to see a pdf file of Session 1 of the course (opens in a new window).
Sample session from Leader's Guide (pdf file, 3.7MB)
PowerPoint slides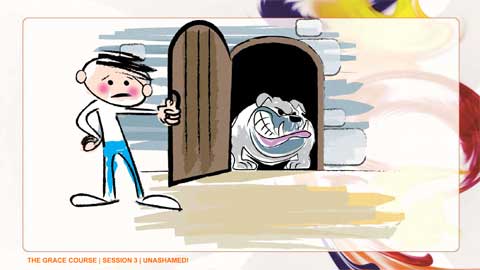 PowerPoint slides for each session are included with the Leader's Guide (on a CD-ROM inside the back cover flap). The illustrations in them were specially commissioned for the course.
You can select whether or not to include the Pause For Thought slides in your presentation.
A full presentation is too large to download so we have put a representation of the slides from Session 3 into a pdf file (at lower resolution than the genuine article).
Sample PowerPoint slides print-out (pdf file, 1.9MB)
Participant's Guide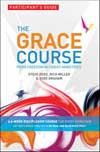 The Participant's Guide contains notes for each session so that course members don't need to spend too much time scribbling.
It also has the Pause For Thought questions and an optional question to think about before subsequent sessions.
Click on the link below to see Session 1.
Sample session from Participant's Guide (pdf file, 1.1MB)
See The Grace Course at no risk
Want to see the material? Simply place an order and, if you decide it's not for you, return it within 28 days in perfect condition for a full refund.